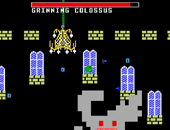 After hanging around in limbo for a while and then getting deleted by myself (d'oh), a new submission by Blueberry has eventually appeared! Hurrah :D Called Advanced Set The Rope On Fire, it represents graphics of the '80's era and is a pretty unique game. Worth looking at.

Comments from the Author:Advanced Set The Rope On Fire Cartridge is a game made for tigsource's demake competition. It is a platformer with an usual way of winning and is made to be like an Intellivison (2st generation console) game.

The game starts with you, a young and brave hero falling down a long chute. You came there with the intention to kill the enormous boss who threatens everybody's existence. Standing at the beginning of a long tunnel you must built up your courage and enter the great hall of doom.

Click here to download this game and read its reviews.