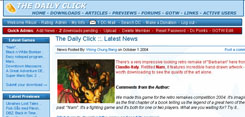 Well per high demand here it is folks our second DC SKIN COMPO! The last one we had in 2007 was a huge success and we got some great skins out of it!
Here are the rules: You have to know how to handle .css files and a way to test your skin out. We do allow people working in teams for this. There has to be a theme that flows together. Like a dark theme, or pirates theme or whatever, but it has to flow together. The deadline will be February 10th, 1 month from today. You can DC-Mail me with the link to your theme, and i'll forward them over to all the other admins.
In the end the top 3 of best themes will get a spot on the site for everyone to choose from!. Also the winners will receive each 700 dc points. Good luck folks, should be interesting to see what you guys will come up with.

UPDATE!
Click here to download the template!