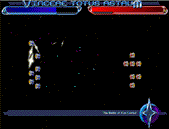 Continuing with the MMF Flash runtime trend, Kisguri has released a Flash version of his space wars strategy game To Conquer All Stars, the original of which can be found on the December edition of the Klik-Disc.

On a slightly unrelated note, Rikus has, as an early Christmas present to The Daily Click, rehired me as an admin :) This position is probably only going to be temporary until Rikus returns from his winter break, around March time. Enjoy me while you can!

Comments from the Author:To Conquer all Stars - Vincere Totus Astrum is a coffee cup styled 4x Conquest game of the galaxy. Your mission as emperor is to conquer the known habitable star systems, to do so is to claim honor throughout history, to fail is death.

Click here to download this game and read its comments.