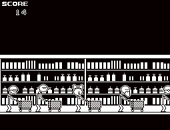 Resident Fishhead God Hayo is back with a new game - not Fishhead related at all this time. Called Living For The Little Things this game tries to turn everyday events into mini-games and is presented 2010BC (before colour)

Comments from the Author:
"This game is based around the boring everyday stuff. These things seem pointless or endless but we have to do them, otherwise we die. So no hot action or engaging puzzles here, but vacuum cleaning and waiting in traffic jams. The graphics are done in black&white pixel art. Music and sounds were done by me. "