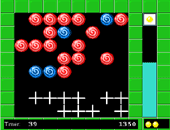 The talented Nastyman has submitted yet another recognisable peice of work to TDC. Called Caucasian Roulette, it's based on placing bets with marbles.

Comments from the Author:
"This is a place your safest best bet game when marbles are on the screen and by simple taps are dropped down in order to hit the targets & recieve score. "