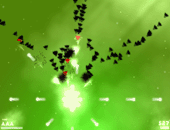 Clement has uploaded a new version of his psychodelic shoot-em-up Luor, featuring online high scores, two new game modes and various other additions. If you haven't downloaded this under-rated gem before, you really should :D

Comments from the Author:
"Hello everyone! I am delighted to announce the official release of 1.505 version of Luor! The game is of course, always free..."