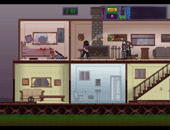 A game that has been garnering quite a bit of attention over the weekend is Survivor: The Living Dead, created by Pyroklastic. Although it's not Halloween yet, this zombie filled George Romero tribute is certainly worth an early look!

Comments from the Author:
"After witnessing her brothers murder Amber ( our protagonist ) flees the attacker and heads into the woods only to discover an abandoned house. Once inside the house she realizes the creature in the woods was not alone, in fact her assailants are vastly growing in number by the minute. How many blood thirsty cannibals are waiting outside? How could she possibly survive this undead siege, one person totally unarmed and trapped in a house all alone? But the question really is... How could you?"