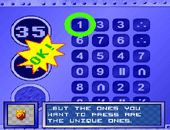 Helpful Clickteam forum stalwart, and TDC admin David N has created a horribly addictive Flash game, with the lengthy title of Special Agent Bunnet versus Doctor Dishwater. From the screenshots it doesn't look like it would set your world alight, but it's just one of those games you go back to again and again. And David only made it in a few days! Try and play it without wanting just "one more go" - I challenge you ;)

Comments from the Author:
"The aim is simple, as described in the story - deactivate the bombs by finding the buttons that don't have duplicates anywhere else. About ten people on Mochi have reached the end so far - one of them in four minutes, which surprised me as my own record's closer to five. Hopefully it's the kind of thing that you can use to distract yourself for lunch - then to forget that lunchtime ended an hour ago."