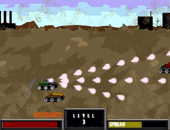 The drip-feed of submissions continues! This time we have a new arcade game from W3R3W00F involving lots of nice explosions, called Overkill. Give it a go... and let's hope this summer games drought ends soon!

Comments from the Author:
"I've no clue if the arcade is still alive, so I decided to add a few things that I had wanted to add to Overkill before, in the span of about 6 days or so (2 of which were polishing things, trying to fix stupid bugs, and of course plenty of distractions). It was a fun little side project, to say the least; it definitely wasn't meant to be some giant undertaking."