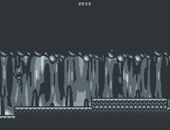 A new game has popped up into the community, and it's absolutely fantastic, addictive fun. Created by the relatively unknown Anders Andersson, this game - Cave of No Return - is a beautiful, monochromistic title - not too dis-similar to Canabalt - and should help to propel Anders into his well deserved limelight. Perfect for high score junkies too :)

Comments from the Author:
"Cave of no Return is a simple platform game where the goal is to survive for as long as possible. Dwelve as deep into the cave as possible, and compete with others online for the highest score. "