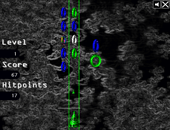 I was thinking the other day about a certain klikker called Techvision, and how fun his Robotic Invasion game was, and how nice it would be to see his return. Well, in a nice twist of fate, and going with the theme of old klikkers returning, he's back with a new version of his game CoLoRs NEXT - Flash Edition. This puzzler was originally released back in 2004, and has now been given a new lease of life.

Comments from the Author:
"Welcome to the world of CoLoRs NEXT. The aim of the game is simple: Shoot the oncoming waves of differently colored rings with the right color before they hit the bottom. Easier said than done, as the speed increases gradually and more columns are added. Fast reactions and quick thinking are essential to survive. "