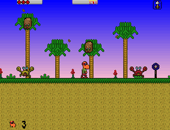 The dripfeed of new submitted games means that I can finally throw something new onto the front page! This is a promising looking demo of a game called Captain Sugar and the Tea Caddies of Justice, created by Rich Datson. It's a graphically distinct platformer with crazy enemies to kill, and is rather enjoyable to play.

Comments from the Author:
"Welcome to the Wonderful world of Captain Sugar, a candy based mid 90s style platformer. Here is a little demo version to get an idea of what the game will look like when complete. So far there is 3 playable levels, about 15 different types of monsters and some weapons to mess round with. "