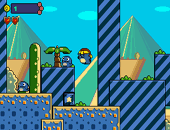 Bernie has snuck this one upon us and we didn't even see it coming! He has released a public beta of his new game A Game With A Kitty 3. Right now it works on PC, but its true destiny lies in the future runtimes that Clickteam plan to release, and has henceforth been downscaled graphically and simplified to fit Android and iPhone runtimes. While it's technically incomplete, Bernie is after bug reports, so please help him out if you can :)

Comments from the Author:
"Kittey, a chubby and erratic cat living in some remote town on an isolated island, wants to go treasure hunting! He wanders off but soon finds out that an old acquaintance is back - with a desire for revenge! Kittey travels to the other end of the island, soars through the skies, raids pyramids and even stumbles into a really silly and dangerous dimension! Good grief! He'd better make sure his sugar level isn't too low. "