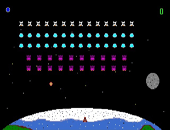 Another game recently submitted is a rather nice looking space invaders clone. Called... um, Space Invaders Clone, it was created by The Pilgrim, and since the description is rather short, I'll just copy and paste nearly the whole thing below ;)

Comments from the Author:
"SPACE INVADERS CLONE is a remake of the old SPACE INVADERS arcade game. I've made it in TGF2 & MMF2. This clone has a little twist to it: There is no LIVES score, I use SHIELDS instead, and there are two bonuses that you can have. A AUTOFIRE bonus, which allows you to spam bullets for a few seconds. There is also a SHIELD RECHARGE bonus, that you need to recharge your SHIELD POWER. If SHIELDS are down, and you get hit, you are dead! "