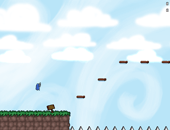 TDC user Solgryn has been busy creating a nice new Flash version of his old game Blob's Adventure. Give it a go at Newgrounds or play the downloadable version instead, and feel free to comment on his work :D

Comments from the Author:
"Blob's Adventure is a random adventure, with little to no story. During the adventure you will encounter spikes, traps, puzzles, bosses and stuff. It's basically a remake of my first game, but with new levels, better engine and graphics and original music!"