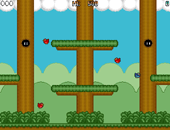 A promising new project has recently been submitted to TDC called Finch Fight. Created by Shawn_S, it plays a little like the retro game Joust, but looks a lot more colourful and pretty :)

Comments from the Author:
"Finch Fight is a throwback to the game Joust, so if you are familiar with that game, you'll be instantly familiar with this. You fly your bird around and hop on an enemy bird's head which smacks it into an egg, then you have to snatch the egg before it hatches again."