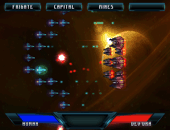 The Clickteam resident Klikdisc guru Kisguri has released his first game on the iPhone store, using the soon- to-be-released iPhone exporter. Vincere Totus Astrum, which roughly translates as Conquer All Stars, is a strategy game set in space. It looks rather beautiful too.

Comments from the Author:
"To Conquer all Stars is what we like to call a "Casual 4x Strategy Game". Blending galaxy conquering with quick and easy gameplay. Pick one of five races and set out to expand your one world into a vast empire. Research new techs, build colony ships, and begin to spread out, but be careful you aren't the only race on the rise. The Universe is a small place and you will have to either negotiate, trade or battle other empires into submission. "