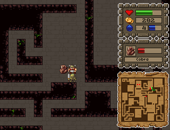 The winner of GameBuilders 20-Event competition has been submitted to TDC, and it's truly fantastic. Assault Andy and Jess Bowers have collaborated together to create Dungeon Dash, a Rogue-esque dungeoneering exploration adventure, with randomly generated levels. All this in only 20 events! If you haven't taken the time to download, you really should :)

Comments from the Author(s):
"Explore dungeons and search for precious loot! The deeper you delve, the bigger the rewards and the more dangerous your encounters will become. What will you find? This game was created for GameBuilder's 20 Event Competition. The game contains 4 frames with only 20 events per frame. Take a look and see how much we were able to stuff into those 20 events!"