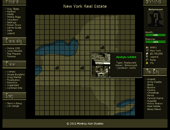 The man behind the dearly departed Total Klik (please consider a resurgence), and Spuds Quest creator ChrisD has submitted a new game in the form of online crime simulation game Syndicate. Although it's currently in beta, it deserves more views than it has recieved thus far and is well worth a go.

Comments from the Author(s):
"Players start off as a nobody and work up their skills, money, rank and reputation. Features include robbing, attacking and shooting other players, building, buying, selling, vandalizing properties, pimping, extorting, drug dealing, performing crimes, fencing stolen goods, jacking cars and selling at the chopshop, and more.. "