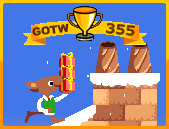 Well, the battle for the best Christmas competition entrant resulted in, interestingly enough, not the competition winner winning this weeks poll! Yes, Strifes game Christmas Time Heroes was relegated to second place, with Duncan Fenn snatching victory from the jaws of... second place. So give a congratulatory round of applause to Tukky's Christmas.

Now, you may have noticed that we were a bit behind with the poll. Like, for instance, six months behind. But this has now changed! After sifting through all the submissions this year so far at TDC, I've settled on a new poll that covers the last few months, and now we are back up to speed! Apologies if your game didn't make it; I looked hard at each submission and made a judgement call on each one. Commercial games and demos I did not include this time either.

So take a look, see which game from this massive list deserves your vote for this week, and hopefully the GOTW poll will never be in such a shambles again!