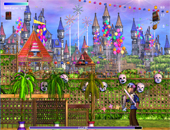 It's rare that you come across games like this. Games that are based on books, that is. Yet Hill Gigas has done just that - producing a game called The Pilgrim's Progress. As usual the game looks fantastic, and if you are into role-playing games, this one is definitely worth a look.

Comments from the Author(s):
"You will control Christian as he travels from the City of Destruction to the Celestial City. Along the way you will encounter enemies, complete quests, and meet many interesting characters. By defeating enemies and completing quests will earn you experience points which will raise your spiritual maturity level and give you stat points to power-up your character as you see fit. Quests range from finding Bibles and giving them to people to venturing into dangerous locations to warn people of the danger they're in! "