Every Friday I will take you back on a trip into the past. I will pick an old news story that could still provide some use today or at the most some fun! So without further delay lets get started!

News first posted 15th September, 2002 by Rikus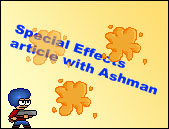 Its time to learn a thing or to about special effects sprites. Ashman made a very well and detailed article about it and its recommended that you check it out. Comments from the Author: There is a regular influx of Klik games going through Daily Click every day. Most of these games have average or below average graphics, but this does not always concern Sprites or Backgrounds. One thing that is often lacking from a games presentation is 'Special effects'. Click here to read the full article"

Ps. If you have a suggestion for another old classic news article, let me know and I just might post it here next Friday!