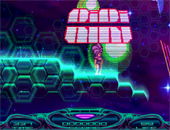 A klik game that has been doing well over the last year or so, but seemingly unheard of at TDC is by a chap called Ilker Esen, who has developed Neva (as well as the graphics for Vincere Totus Astrum on iPhone and iPad), a futuristic hybrid platformer/puzzler with neonistic and quite frankly amazing graphics. The gameplay takes a bit of getting used to, but once you do, this is a great game to play.

Comments from Pixel Prospector:
"Neva is a futuristic hybrid between an action platformer and an action puzzler. Each time when you have completed the platforming stage (in which you jump, fly, fight and run) you get to the puzzle segment. In the puzzle stage you have to hit the right buttons at the right time…"