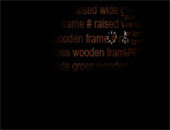 Fanotherpg has released his intriguing project, demonstrated at this years Click Convention. Using the Raycasting object, Sens3s: The Art of Understanding is an experimental game in which you take on the role of a blind person, navigating with touch and sound.

Comments from the Author:
"What if you could feel, see and understand blindness? What if you could step into a blind person's world? In this game you play blind; your aim is to explore and overcome the situation and environment with which you are presented. To do so, you must learn that you donít have to rely solely on your eyes and sight to see the world around you. There are other ways of seeing using different senses, including touch and sound"