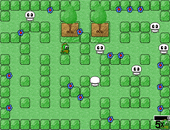 Nastyman has been busy working on another game, with the Nastyman graphical style we've come to love over the years. Called YokuZaur, it is, in essence, a top-down version of the retro classic Bubble Bobble :) Which is a very good thing.

Comments from the Author: Play as Yoku, a bubble shooting dinosaur and pop all the robots that appear on stage, this is done by blowing bubbles on them and then trapping them inside.

All you need after a robot is trapped inside is to blow up the bubble, releasing the trapped robot that inside to be blown out.