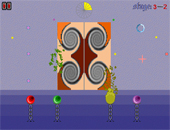 A rather crazy game, probably the last before Christmas, has been submitted by Indago, called Mystic Castle. The description of the story behind the game is somewhat vague, however... Take a look and please give feedback to the author.

Comments from the Author: THIS GAME CONTAINS SOME SCENES, VIOLENCE, AND OTHER SUBJECT MATTER THAT SOME PEOPLE WOULD CONSIDER VERY DISTURBING…..

Click here to view and comment on this game

While I'm here, I would like to take the opportunity to wish the members of TDC a very Merry Christmas, on behalf of myself and the other admins. I hope you all enjoy the festivities!