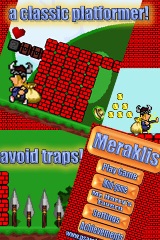 Another game that utilises the iPhone runtime is Meraklis, an intriguing platformer created by Dam1an. Using a charming yet simple graphical style, Meraklis must embark upon an adventure to reclaim his stolen coins. The game also features its own Achievement system, designed to motivate you once (or if) you beat it.

Comments from the Author:
"Meraklis is a plump and pretty but avaricious young man who likes to collect gold coins and inhabits in a small island called Meraklonisos. Through the years he managed somehow to make a fortune. Thousands of golden coins are hidden in his house! One day, some monsters broke in and stole his coins!!! Poor Meraklis... he has to wander all around the island in order to detect his stolen coins. Will you help him? If the answer is yes a wonderful adventure is about to begin. "