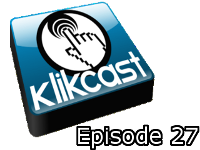 Rikus has returned with another episode of his trade mark KlikCast series of videos, keeping tabs on the latest click games and projects. It features previews of some very promising games, as well as an interview with Tristan who is currently working on Project Float. Well worth checking out!

Comments from Rikus: "Welcome to Episode 27 of the klikcast. Our first episode for 2012! This episode is filled with 2 reviews, interview with Tristan on Project Float, trailers and a special feature. You do not want to miss this one! "

Click here to watch and comment on KlikCast episode 27!