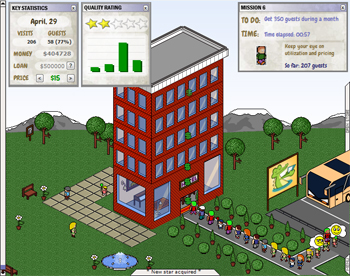 The anticipated sim game Hotel Baron has been unleashed onto the community, in the form of a Flash game. MJK has created something annoyingly addictive - can you create and run a successful hotel without ruining yourself financially? Hotel Baron features numerous modes to try, and best of all it's completely free to play :)

Comments from the Author:
"Hotel Baron is a lightweight, easy-to-pick-up business simulation game in the hotel world. Build the hotel of your dreams; construct the building, add floors and rooms, decorate yard, hire and manage staff, build pools, establish services, adjust pricing and improve customer satisfaction, revenue and profits! Attract even thousands of guests and make them smile (after emptying their wallets, naturally)!"