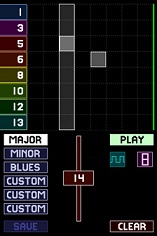 Resident TDC member Bibin has created a very nice application for iPhone and iPad. Called Sequen, it's possible to create some great retro sounding tunes. We are seeing more and more impressive applications and games created with Clickteam's iOS Runtime - Sequen is certainly amongst these upper echelons and priced at a mere $0.99 is definitely worth considering for your collection of Apps.

Comments from the Author:
"Sequen is a very simple 8-line sequencer. A user can arrange from 8 notes out of a scale a sequence that repeats, allowing the user to modify it in real-time to change how it sounds. What makes Sequen unique is that not only can you change which chords the sequencer is running in, but you can define your own out of the 12-step scale as well. "