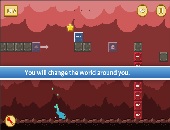 A very appealing iOS game has been submitted to TDC, set in the prehistoric era. This means dinosaurs! RunRunDie! - created by some former members of the Silvernova team, including main programmer viva/volt and Jake Greer. Apparently the man upstairs has decided that other organisms deserve a chance to be as great as the dinosaurs - by trial of fire...

Comments from the Author:
"Each level your task is to extinguish the flames that threaten the future of our furry forebears. Tap the screen to jump over obstacles and use your superior smarts to tinker the terrain. Just get all these cuties to the water!"