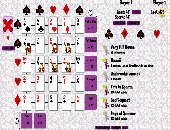 A very intriguing game, combining elements of poker, solitaire and dice has been submitted to TDC by Bjorn Morrison. Called Tickle Dice, the game features 60 opponents to play against, as well as a tutorial to guide users unfamiliar with the seemingly complex rules. It costs a couple of dollars to play the proper version, but a review copy is available with a discount code. Worth a look :)

Comments from the Author:
"Place cards in a 5 by 5 grid to earn dice per suit. Use those dice to battle your opponent. A unique card game with endless replayability. Yes it's casual, but there's a layer of strategy that's deceptively deep, and nicely addictive."