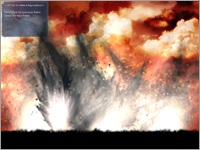 This is certainly newsworthy, and a mention at TDC is a Very Good Thing. Eagle4 (aka Clement Willay), who you may or may not remember, demonstrated various special effects at the previous Click Convention. These effects wowed those in attendance, and now this very talented man has released two Special Effects Packs.

The First Pack contains Space Explosions, Ground Explosions, Magic Explosions, Water, Fire, Snow and Fog effects, a lens flare, horizon distortion and a neat water physics effect.

The Second Pack features a 3D Planet effect, Black Hole effect, Flamethrower effect, Grenade Blood effect, Ice Beam and Laser effects, Out of Water effects, Quick Rain effects, Shield and Teleportation effects.

As you can see, there are many effects bundled into these two packages, and if you're unsure what to expect, Eagle4 has uploaded videos to his YouTube channel to give you an idea. It's possible to purchase these as packages or as individual effects. Click here to visit the YouTube channel and Click here to visit his webpage to purchase the effects.