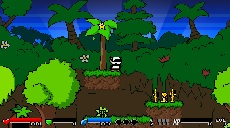 He's super. He's a panda. He's off on an adventure - and you can get to experience a reasonable portion of it! Yes, Blue66, of the GunGirl series, has released a new demo of his upcoming project Super Panda Adventures. Pandas are cute and cuddly, so therefore by default if anything else, you should really consider downloading this neat demo :) And of course, leave feedback.

Comments from the Author:
"Super Panda Adventures is a mix of metroidvania, rpg and action platformer. You play as Fu and your mission is to save the world from evil Robots who have kidnapped the sweet Princess Maya!

This is the DEMO version, which features about 10-30 minutes of gameplay to give you a good first impression of the final game. Please leave feedback if you like "