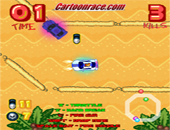 Well, Rikus is back! Thanks for stepping in over the past week with updates :D Now onto my first update for over a month (sorry) - a neat Flash game submitted by Lobot features Nascar racing and lots of carnage. The name? Nascar Carnage, of course! Give it a go and see what you think :)

Comments from the Author:
"Nascar Carnage is a nascar racer game with a difference. Blast away other racers using machine guns, mines and homing missiles. How much nascar carnage can you cause? "