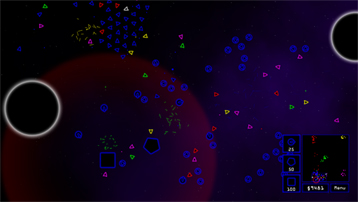 We have an interesting and colourful project for you to take a look at, people. Seemingly a hybrid between Geometry Wars and Terminal Orbit, this game - Eternal Orbit has been two months in the making and already is looking very promising. The author, SolarB promises custom game types and between 500 and 1000 computer controlled units. Which is quite a lot.

Comments from the Author:
"This is the game I've been working on for the past 2 months, soon to be released! Initially this started off as an exercise in unit count but it spiralled out of control and became a fully featured game (and yes, the title is a nod to a certain other RTS some of you may remember)! "