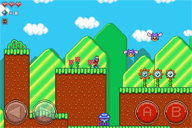 A very attractive platformer has been created by JustinC using the iOS exporter. Priced at the princely sum of $1.99, PolyRoll features 28 levels and lots of retro charm. Excellent stuff :D

Comments from the Author:
"Introducing Polyroll! A run n' roll, retro platformer! The evil Kaiser Kiwi has kidnapped Polyroll's friends and taken them to his Frigid Castle Lair. As the last remaining Polyroll, you must run, jump, roll, float, and bomb your way through a variety of bizarre environments to save them and defeat Kaiser Kiwi. "