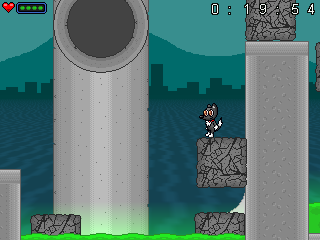 Jake has been very busy over the last few months providing us with updates to his game Jamie's Revenge 2. Now, it is out! This enjoyable 2D platformer is the sequel to the 2008 original and contains many new gameplay additions. Definitely one to consider adding to your collection.

Comments from the Author:
"Jamie returns with her cousin Pebz in a platformer inspired by the early Mario and Sonic games with 23 levels divided up amongst 7 worlds... The original engine and has been revamped, having been created from scratch. I tried to consider all the constructive criticism and suggestions people had on improving the first game, so hopefully it shows. "