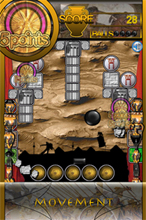 A curious, yet enjoyable game has been released using the iOS exporter by the talented Dam1an. Bricks of Rome is a take on the bat-and-ball genre, neatly dressed up in a historical theme, with elements of strategy thrown in for good measure. All in all, a nice little game :)

Comments from the Author:
"Rome was not built in a single day, that's for sure. It took many years and much effort to become the empire that we all know. Grab your sword and shield and put a small stone to build this empire... Through separate campaigns you will lead your people to victory and you will become the Supreme Ruler in the Mediterranean Sea. "