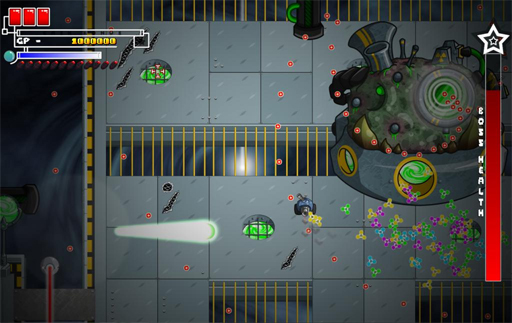 After some considerable time in development, Windybeard Games has released their super challenging, and rather gorgeous space adventure Sweezy Gunner. The gameplay is a hybrid of a "Zelda-style adventure" and shoot-em-up, and is definitely worth a play. Sweezy Gunner isn't free, costing a penny under £4, but every single one of those pennies will be worth it. Watch the YouTube clip here.

Comments from the Author:
"Welcome to the crazy world of Sweezy Gunner! An eye melting, brain bending, mouse squeezing 2D Shoot em up. Are you hungry for action? Do you crave intense mayhem? if yes then let's get Sweezy!

The objective is simple, find out what killed the human terrafromers and destroy it. Thats what you were brought in to do and its what you do best. Landing on Terrafort is just the beginning."