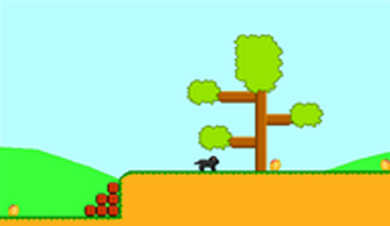 Apologies for the blurry screenshot (the original was tiny so I enlarged it a little) - Shelie's Voyage 2 has been submitted to our increasingly sleepy site by Saurum Company... err... two months ago nearly (where have we all been?). The actual game was released over a year ago, but it's worth a look.

This somewhat challenging platformer ticks all the boxes, with over twenty levels to beat, so if you're up to the task, download today!

Comments from the Author:
"Shelie was robbed by a creature called 'Strange thing'! She went to her cat friend Kotch, but he was robbed too! Together, they go to the cave where the creature lives and they'll get their furniture back!"