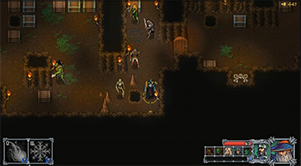 Here's something worth mentioning - an MMF2 game has made it onto Steam! Assault Andy, aka Andrew Sum and his team have released an early access version of Dungeon Dashers, a turn-based dungeon crawler. If you ever played the original Dungeon Dash by these guys - a game made in 20 events - you'll feel right at home exploring randomly generated dungeons. It looks simply amazing and is worth purchasing.

Comments from the Author:
"Dungeon Dashers is a fast-paced turn-based dungeon crawler, bringing the enjoyment of a tabletop board game with friends to the PC. The game's design streamlines the core dungeon crawler experience to its essentials, for an intense, loot-grabbing adventure. "