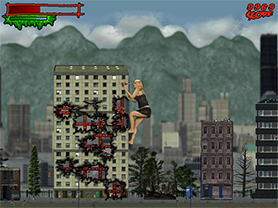 Disthron has been around the community for some considerable time, yet hasn't released any "full" games, until now. Mutant Colossus from Outer Space is his first properly big project, and was recently released at Desura. The game is reminiscent of the old "Rampage" series, starring a short skirted heroine, with a desire to cause mayhem and destruction wherever she goes. If you like cheesy, B+ style movie games, this one could be the game for you! It isn't free, but not terribly expensive either.

Comments from the Author:
"One silent and dark night Ava is driving through the country side just minding her own business. When all of a sudden a meteor shower begins bombarding the surrounding country side, striking here car. After the accident she is struck with new and terrible power. To grow into a Colossal Mutant! Her mind now corrupted by this power, she grows to an enormous size in order to assert her dominance over this world. "