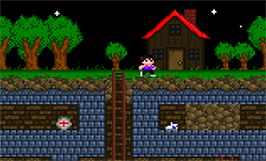 Del Duio, creator of the rather popular Hasslevania games, has revealed a promising new project that he's working on. Weebish Mine is an underground adventure starring a family of four. Featuring a humourous story and several somewhat weird and wonderful enemies the protagonists will encounter, this is shaping up to be something special already, ff it's anything like Del Duio's previous work.

Comments from the Author:
"Hugely inspired by my personal favorite NES Game "Legacy of the Wizard", Weebish Mines follows the story of a family of 4 in their quest to enter a giant nearby dungeon to collect gems and money to pay for their sick pets' medical bills."