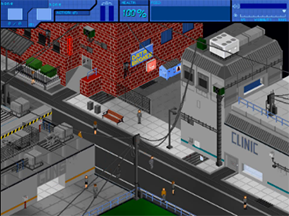 A project over five years in the making has been unleashed into the indie gaming world. Data Jack, created by Rick Shaw, and its development, has been fully documented in the projects section at TDC for some considerable time, and has already picked up quite a bit of attention, with indiegames.com and Kotaku featuring the isometric Deus Ex inspired game on their freeware pick of the day pages.

Rick Shaw is donate-ware, meaning technically it's a free download, but if you ever felt like showing your appreciation, the PayPal donate button isn't too far away :)

Comments from the Author:
"Set in the year 2030, following the collapse of nation states, the world of DataJack is run by megacorporations who recognize no rule of law beyond sheer military force. The game follows the career of a corporate mercenary who hires out his abilities as assassin, hacker and gunslinger to the highest bidder."