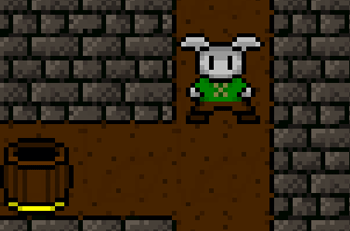 Del Duio has updated his game Equin: The Lantern, and has been kind enough to give us a damn fun demo to try it out with before we buy. It is a rogue like game, made with our good old friend MMF.

A really good game, check it dudes! Click here to download and comment on Equin: The Lantern (demo).

In Del Duio's own words:

"A young Xtoli adventurer learns of a mysterious dungeon near town ruled by an even more mysterious magic lantern. The lantern changes colors, but what does it actually DO? Take control of either Warrior, Thief, or Wizard and gain levels, stats, and mad treasure as you descend the dungeon's 50 floors to find out."

You have 15 floors to try out in the demo, with no restrictions. So get downloading already!!!