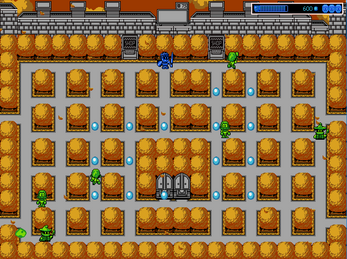 It's been a long time since I've done this... let's see how things go! Longtime klikker Yai7 (also known as Nastyman) has submitted a new game to TDC. Called Dragon Byte, the game was created during a NES-style game jam, looks colourful, and most importantly fun to play. With twenty challenging levels to play through, can you beat Dragon Byte?

Comments from the Author:
"It's up to a Knight and his loyal dragon companion to save Tayson's mother who has been taken away by another fearsome dragon. Move around a hedge maze and strike various monsters that try to attack the castle, You can buy various upgrades in a special in-game stand, summon knights and archers, attack with your dragon and upgrade stats. Avoid the monsters breaking the locks on the castle's doors and do not let the monsters invade."