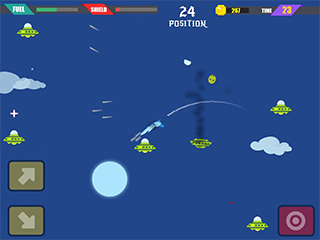 After over 14 months in development, Marc Georgeson has released his highly compulsive arcade plane/alien shooter Rockstar Alien Killers on the Google Play store for free. If you have an Android device this is pretty much an essential download, with addictive gameplay, beautifully clean graphics, multiple vehicles and weapons to unlock and a whole variety of game missions. Now back to my phone for just one more go...

Comments From The Author:
"Grab your favourite plane, select your weapons of choice, turn the music to EXTREMELY LOUD and show off your flying skills in this action packed game.

Join a band of washed-up rockstars who just happen to be able to fly planes and show the aliens who's best in aerial combat.

Work your way through a variety of different "rock-tastic!" missions while earning mission bonuses and improving your Rockstar Rating."


Click here to access Rockstar Alien Killers via Google Play!