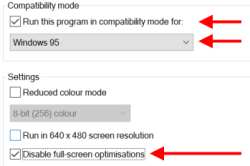 I have written an article on how to play old Klik games on Windows 10. This could come in handy if you're playing games in the Klik Museum.
Meanwhile, hellzy has brought us DIAREGNUM: Chrono Hunter, a "shooter game with time-stopping action" made in Clickteam Fusion 2.5.
If you have not done so already, please check out the June Game of the Month games and vote for a winner. Votes were reset on the 23rd of August so if you voted before then you will get the option of voting again.
Finally, Picture Me This Round 50 is up for grabs so the first person to start a thread for it on the Competitions Forum can start it up again!