Hi all, 3kliksphilip suggested that we do a game making competition so I thought I'd give it a go. So I present to you: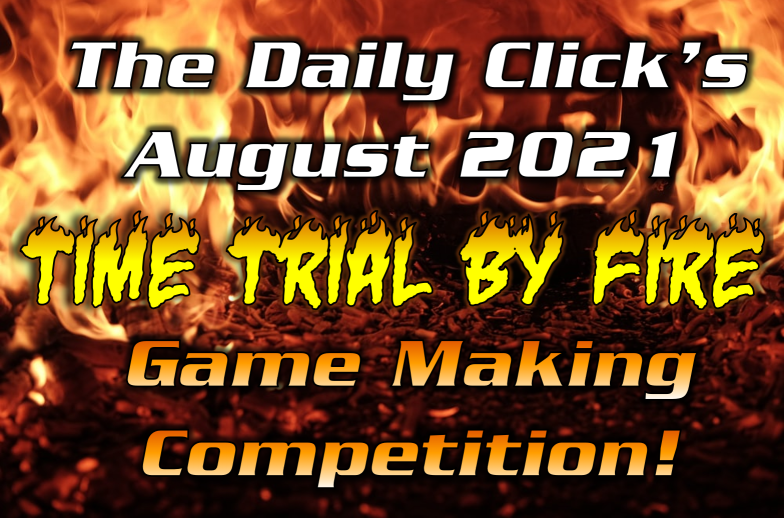 The basics:
The theme of the competition is 'Time Tral by Fire'. That is to say, the game should have a 'time trial' mode and should involve fire somehow.
First place prize is a special tag at The Daily Click, DC Points, and listing as a GOTM winner.
You can work alone or as part of a group.
Multiple entries per person are allowed, but we would rather see one higher quality game than multiple lower-quality entries.
The deadline for submitting your game is 11:59pm on Friday the 3rd of September (UTC/GMT).
Additional restrictions:
It should be designed to minimise the impact of randomness on the score/time so that doing well feels earned rather than merely the result of luck. This means that the time it takes to complete the game (or how long someone survives at the game) will be indicative of the skill or experience of the player rather than whether or not the randomness was on their side in this particular playthrough.
Any instructions on how to play the game need to be contained with the game itself, e.g. in a help section the user can access.
The game needs to be made in a Click product such as Clickteam Fusion, Multimedia Fusion or The Games Factory.
To be part of the competition, all you need to do is submit the game to The Daily Click and say that it is an entry for the Time Trial By Fire competition within the game's description.
Note: Because this is my first time running a TDC competition I may tweak these rules slightly after feedback, but if I do then I'll let you know.